Here at Black Raven Armory we do our best to provide you with well fitted Armour
All mens armours will fit heights from 5ft 8ins (173cm) to 6ft (183cm) by simply adjusting the shoulder fitting, if however you are outside this range please let us know and we will do our very best to accommodate you, so far our tallest customer has been 6ft 8ins (203cms)
All Ladies armours will fit heights from 5ft 6ins (168cm) to 5ft 10ins (178 cm) again by simply adjusting the shoulder fitting, if however you are outside this range please let us know and we will do our very best to accommodate you.
we offer a variety of standard sizes for our bodies and belts, generally these have at least 4 inches (10cm) of adjustment built in, you should always choose a size based on your measurement over the top of whatever you will be wearing under the armour.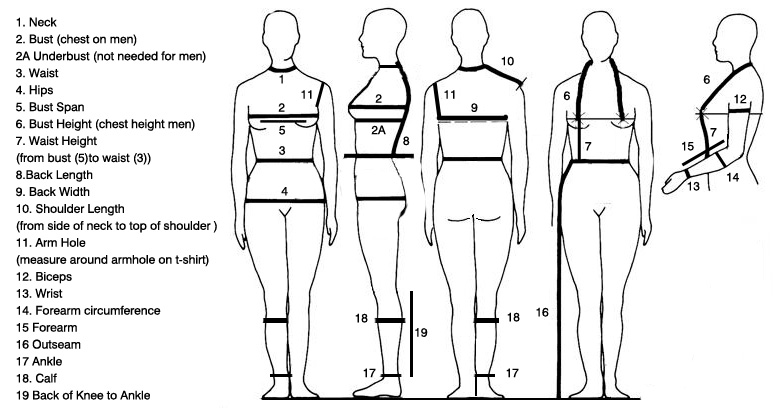 For ladies body armour please include bra size in your order notes, e.g 38 C (85 C European) so that we can provide the best possible fit.
For Body Armours please include measurements 1-11 in your notes
For Belts Tassets & Batleskirtsplease include measurements 3,4,7 and 16 in your notes
For Shoulders please include measurements 10-12 in your notes
For Vambraces please include measurements 13-15 in your notes
For Greaves please include measurements 17-19 in your notes